What is DIKE ransomware
DIKE is ransomware that scammers use to extort money from victims through blackmail. When this virus infiltrates a system, DIKE virus encrypts all frequently accessed files and adds the .DIKE extension to all affected files.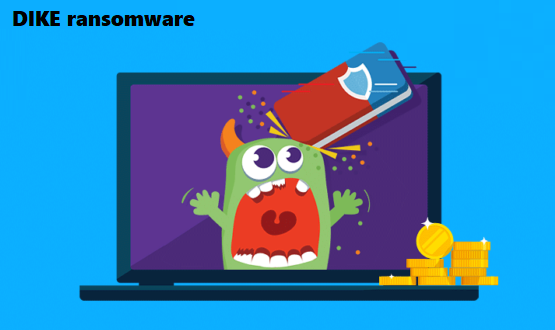 As the encryption process hums, ransomware creates a text file info.hta that displays a note from scammers:
ATTENTION!
ALL YOUR DATA ARE PROTECTED WITH RSA ALGORITHM
Your security system was vulnerable, so all of your files are encrypted.
If you want to restore them, contact us by email: taoshan@privatemail.com
in the header of the letter indicate your encrypted ID –
If you do not receive a response within 24 hours, please contact us by Telegram.org account: @supp_taoshan
BE CAREFUL AND DO NOT DAMAGE YOUR DATA:
Do not rename encrypted files.
Do not try to decrypt your data using third party software, it may cause permanent data loss.
Do not trust anyone! Only we have keys to your files! Without this keys restore your data is impossible
WE GUARANTEE A FREE DECODE AS A PROOF OF OUR POSSIBILITIES:
You can send us 2 files for free decryption. Size of file must be less than 1 Mb (non archived). We don`t decrypt for test DATABASE, XLS and other important files.
DO NOT ATTEMPT TO DECODE YOUR DATA YOURSELF, YOU ONLY DAMAGE THEM AND THEN YOU LOSE THEM FOREVER.AFTER DECRYPTION YOUR SYSTEM WILL RETURN TO A FULLY NORMALLY AND OPERATIONAL CONDITION!
Cybercriminals post the email address taoshan@privatemail.com or @supp_taoshan so that victims can contact scammers for decryption information. Fraudsters demand a certain amount in return for the return of files. However, experience shows that cybercriminals cannot be trusted because they do not guarantee safe and efficient file recovery. To get files back, you need to get rid of DIKE ransomware. To do this, we have prepared special instructions for you to remove scammers and DIKE ransomware.