What is Kikiriki ransomware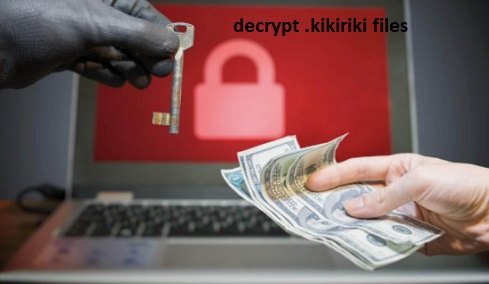 Kikiriki is a file encryption ransomware that restricts access to documents, images, videos, music by encrypting files with the extension .kikiriki .
Kikiriki virus scans your computer for .doc, .docx, .xls, .pdf files using a special encryption algorithm, and then displays a file containing a ransom note and instructions on how to contact the authors of this ransomware !! ! ALL YOUR FILES ARE ENCRYPTED !!!. TXT
Little FAQ:

.1.

Whats Happen?
Your files have been encrypted .
The file structure was not damaged, we did everything possible so that this could not happen.

.2.

How to recover files?
If you wish to decrypt your files you will need to pay in bitcoins.

.3.

What about guarantees?

Its just a business. We absolutely do not care about you and your deals, except getting benefits. If we do not do our work and liabilities – nobody will cooperate with us. Its not in our interests.
To check the ability of returning files, you can send to us any 2 files with SIMPLE extensions(jpg,xls,doc, etc… not databases!) and low sizes(max 1 mb), we will decrypt them and send back to you. That is our guarantee.

.4.

How to contact with you?

Visit hxxps://tox.chat/download.html
Download and install qTOX on your PC.
Open it, click "New Profile" and create profile.
Click "Add friends" button and search our contact – 2CBED83531CD615DC0BCF9BD996A91CA5237479CD50B73D22602D0AD790DC74E0B3428B94DA9

The alternative way to contact as is to use Jabber:
1. Visit hxxps://psi-im.org/download/
2. Download and install Psi on your PC.
3. Register new account on hxxps://jabb.im/reg/
4. Add new account in Psi.
5. Add our contact – kikiriki@creep.im

.5.

How will the decryption process proceed after payment?
After payment we will send to you our scanner-decoder program and detailed instructions for use. With this program you will be able to decrypt all your encrypted files.

.6.

If I don't want to pay bad people like you?
If you will not cooperate with our service – for us, its does not matter. But you will lose your time and data, cause only we have the private key. In practice – time is much more valuable than money.

.7.

:::BEWARE:::
DON'T try to change encrypted files by yourself!
If you will try to use any third party software for restoring your data or antivirus solutions – please make a backup for all encrypted files!

Any changes in encrypted files may entail damage of the private key and, as result, the loss all data.
You cannot trust a fraudster if you do not want to be deceived. The only sure way to decrypt files is to remove Kikiriki ransomware.