What is Deal Ransomware
Deal ransomware is a cryptovirus that encrypts user data in various formats, such as photos, video, audio, archives, and office documents. Needless to say, this category of files is very important for the user. This is the main goal of attackers. Genealogically, Deal ransomware belongs to the Phobos cryptovirus family. Moreover, in addition to encryption, Deal ransomware changes the file extension to .deal, after which the files become categorically unsuitable for further use.
The activity of the cryptovirus occurred at the beginning of October 2019 and for such a short period of time, Deal ransomware has already spread throughout the world. Also, Deal ransomware creates a special pop-up file. This file contains information about encryption and ransom methods. Take a look for yourself: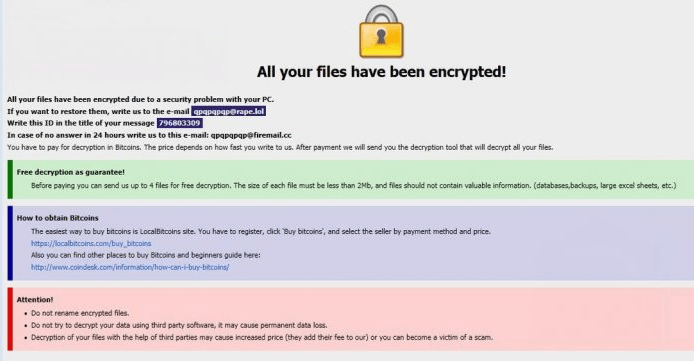 All your files are encrypted
Hello World
Data on this PC runed into useless binary code
To return to normal, please contact us by this email: OttoZimmerman@protonmail.ch
Set topic of your message to 'Encryption ID:[8 random characters]'
Interesting facts:
1. Over time, the cost increases, do not waste your time
2. Only we can help you, for sure, no one else.
3. BE CAREFUL If you still try to find other solutions to the problem, make a backup copy of the files you want to experiment on, a. play with them. Otherwise, they can be permanently damaged.
4. Any services that offer you help or just take money from you and disappear, or they will be intermediaries between us, with inflated value. Since the antidote is only among the creators of the virus
PHOBOS
This file contains the scammers' emails, that will "help" the user to pay a ransom. The ransom's amount is not indicated there, but, based on our latest data, we can say that this can reach several hundred US dollars. Also, the user must pay it in cryptocurrency, namely in BTC. Of course, we do not recommend you pay, 'cause there are no guarantees that you'll get back your files. We recommend you to remove Deal ransomware using our guides indicated below. Decrypt .deal files after that.
How to remove Deal Ransomware
First of all, don't panic. Follow these easy steps below.
1. Start your computer in Safe Mode with networking. To do that, restart your computer before your system starts hit F8 several times. This will Deal Ransomware system from loading and will show Advanced boot options screen. Choose Safe mode with networking option from the options list using up and down arrows on your keyboard and hit Enter.
2. Log in to the system infected with the Deal Ransomware virus. Launch your Internet browser and download a reliable anti-malware program and start a full system scan. Once the scan is complete, review scan results and remove all entries detected.
Recommended Solution:
Restore your files using shadow copies
Download and run Stellar Data Recovery.
Select the drive and folder where your files are located and date that you want to restore them from and press Scan.
Choose all files on folder you want to restore and select Restore.
Choose export location and view restored files.
Step 2: Remove following files and folders of Deal Ransomware:
Related connections or other entries:
No information
Related files:
No information
How to decrypt files infected by Deal Ransomware?
You can try to use manual methods to restore and decrypt your files.
Decrypt files manually
Restore the system using System Restore
Although the latest versions of Deal Ransomware remove system restore files, this method may help you to partially restore your files. Give it a try and use standard System Restore to revive your data.
Initiate the search for 'system restore'
Click on the result
Choose the date before the infection appearance
Follow the on-screen instructions
Roll the files back to the previous version
Previous versions can be copies of files and folders created by Windows Backup (if it is active) or copies of files and folders created by System Restore. You can use this feature to restore files and folders that you accidentally modified or deleted, or that were damaged. This feature is available in Windows 7 and later versions.
Right-click the file and choose Properties
Open the Previous Version tab
Select the latest version and click Copy
Click Restore
How to prevent your system from Ransomware?
Make sure your Remote Desktop Protocol (RDP) connection is closed when you don't use it. Also, we recommend using a strong password for this service. The most efficient way to avoid data lose is of course to make a backup of all important data from your computer.