What is Galacti-Crypter Ransomware
Galacti-Crypter ransomware is a cryptovirus that extorts money from users. Galacti-Crypter ransomware encrypts data using the RSA-2048 algorithm, which of course makes these files unusable. The type of these files was not chosen by chance, because it encrypts photos, audio, video and everything that is important to the user. Despite the fact that Galacti-Crypter ransomware is aimed at English-speaking users, it still spread all over the world.
A genealogical relationship with any cryptovirus family has not been established. Galacti-Crypter ransomware became active at the end of September 2019 and so far has gained tremendous momentum. Unlike other cryptoviruses, this does not change the file extension but inserts the ENCx45cR prefix in their names. For example, the file 0101document.doc becomes ENCx45cR0101document.doc. Just renaming files does not help. Moreover, cryptovirus deletes shadow copies of files and system restore points. Among other things, Galacti-Crypter ransomware creates the lock screen that contains information about encryption and ransom methods: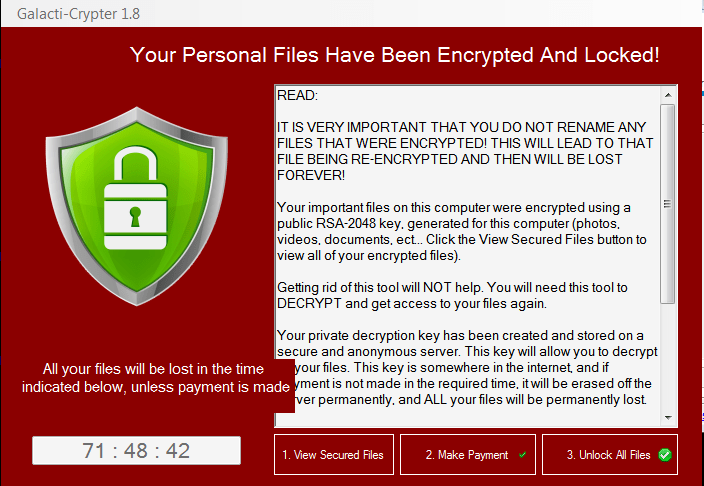 READ:
IT IS VERY IMPORTANT THAT YOU DO NOT RENAME ANY FILES THAT WERE ENCRYPTED! THIS WILL LEAD TO THAT FILE BEING RE-ENCRYPTED AND THEN WILL BE LOST FOREVER!
Your important files on this computer were encrypted using a public RSA-2048 key, generated for this computer (photos, videos, documents, ect… Click the View Secured Files button to view all of your encrypted files).
Getting rid of this tool will NOT help. You will need this tool to DECRYPT and get access to your files again.
Your private decryption key has been created and stored on a secure and anonymous server. This key will allow you to decrypt all your files. This key is somewhere in the internet, and if payment is not made in the required time, it will be erased off the server permanently, and ALL your files will be permanently lost.
To obtain your private key for this computer, you will need to pay 150.00 USD / 150.00 EUR BitCoin. This is equal to 0.2 Bitcoin that must be paid to decrypt and regain access to all your files.
ANY attempts to remove, tamper or damage this software WILL lead to immediate termination of the private key and ALL your files will be permanently LOST.
Your time remaining is indicated on the left.
If you are ready to make the payment, please click the button below.
In a note, attackers demand a ransom of 0.2 bitcoin, which at this rate is approximately $ 150. Of course, someone can say that this is a very small amount, but in reality, you can spend money nowhere. We highly Galacti-Cryptermmend you to use our Galacti-Cryptermmendations to delete ENCx45cR and decrypt ENCx45cR files.
How to remove Galacti-Crypter Ransomware
First of all, don't panic. Follow these easy steps below.
1. Start your computer in Safe Mode with networking. To do that, restart your computer before your system starts hit F8 several times. This will Galacti-Crypter Ransomware system from loading and will show Advanced boot options screen. Choose Safe mode with networking option from the options list using up and down arrows on your keyboard and hit Enter.
2. Log in to the system infected with the Galacti-Crypter Ransomware virus. Launch your Internet browser and download a reliable anti-malware program and start a full system scan. Once the scan is complete, review scan results and remove all entries detected.
Galacti-Cryptermmended Solution:
Restore your files using shadow copies
Download and run Data Galacti-Cryptervery Pro.
Select the drive and folder where your files are located and date that you want to restore them from and press Scan.
Choose all files on folder you want to restore and select Restore.
Choose export location and view restored files.
Step 2: Remove following files and folders of Galacti-Crypter Ransomware:
Related connections or other entries:
No information
Related files:
GL.exe
.exe
How to decrypt files infected by Galacti-Crypter Ransomware?
You can try to use manual methods to restore and decrypt your files.
Decrypt files manually
Restore the system using System Restore
Although the latest versions of Galacti-Crypter Ransomware remove system restore files, this method may help you to partially restore your files. Give it a try and use standard System Restore to revive your data.
Initiate the search for 'system restore'
Click on the result
Choose the date before the infection appearance
Follow the on-screen instructions
Roll the files back to the previous version
Previous versions can be copies of files and folders created by Windows Backup (if it is active) or copies of files and folders created by System Restore. You can use this feature to restore files and folders that you accidentally modified or deleted, or that were damaged. This feature is available in Windows 7 and later versions.
Right-click the file and choose Properties
Open the Previous Version tab
Select the latest version and click Copy
Click Restore
How to prevent your system from Ransomware?
Make sure your Remote Desktop Protocol (RDP) connection is closed when you don't use it. Also, we Galacti-Cryptermmend using a strong password for this service. The most efficient way to avoid data lose is of course to make a backup of all important data from your computer.