What is the need for backups?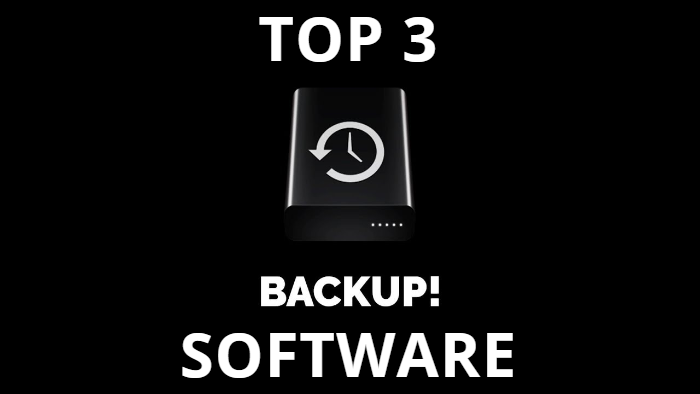 Nowadays, the issue of backing up files is more important than ever. The reasons for the possible loss of data can be completely different and depend on the circumstances. For example, if a user stores all his data on a hard drive, then sooner or later he may fail and there is a chance of losing all the important data. Or, no one is immune from cybercriminal attacks, in particular, one of the most common tricks of fraudsters is ransomware encrypting data. Moreover, to restore them, the user has to pay a considerable ransom (up to several thousand dollars).
And simply, few people want to part with their photos, videos, archives or text documents.
It is in such cases that backup software will help you a lot because with their help you can backup not only individual files or partitions but also the OS for its further recovery.
Here's the Top 3 Backup Software
Absolute Home & Office Premium
Absolute Home & Office Premium is a product of Dutch developers (Absolute Software Inc) that has existed for a sufficient amount of time and has proven itself as a reliable assistant in creating backups.
However, in addition to creating backups, this product has many other very useful features, namely:
Data recovery – the program allows you to recover data in the event of theft or loss of a phone, tablet or another gadget that contained personal information;
Locking your device is a great feature that can lock your device in case of loss or theft. This way you can prevent the leak of your private data and files;
Delete data on the device – if you are worried about the safety of data on the device that fell into the hands of thieves, then this function allows you to delete data remotely;
Location of the device – with this function you can easily find out the exact location of your device here and now. The program uses GPS, Wi-Fi, and IP geolocation;
Compensation for possible damage $ 1000 – in the Premium version, a monetary reward is provided in case the program cannot restore the data located in the stolen or lost device within 60 days *
* Read the Service Guarantee for full details.
In general, we recommend that you use Absolute Home & Office Premium, which will help not only create a backup of your data but also restore it in case of loss.
---
O&O DiskImage Professional
O&O DiskImage Professional is a product of German developers (O&O Software GmbH, Berlin), and during its existence, the number of satisfied users is only growing. The program has a very convenient interface and is great for both ordinary users and "experienced" who know exactly what and when they want.
Among the obvious advantages of the program can be noted:
Backing up computer contents with the click of a button
Backing up the system and hard drives, cloning partitions and entire drives
Updated file backup – twice the speed of copying and restoring individual files
Direct creation of VHD files
Monitoring and warning of security risks
Incremental and differential backups: copy only changes
Easy recovery of files, folders, partitions, and disks
System recovery on other equipment (machine-independent recovery, MIR)
Creating a Windows boot system directly from a program that supports driver integration
Plug-and-play: Selected files and folders are automatically copied and synchronized
The DiskImage To Go function turns an external hard drive (or USB flash drive) into a bootable DiskImage device, which will be selected as the preferred storage for future backups
Support for Windows 10, Windows 8.1 and Windows 7
And this is not the whole list of the functionality of this program with a relatively low cost of $49.95. If you add the reviews of satisfied users to this, you can safely recommend O&O DiskImage Professional for use for backup purposes, both the entire OS and individual files, partitions or folders.
---
AOMEI Backupper Pro
Download AOMEI Backupper Pro AOMEI Backupper Pro is a fairly popular program with lots of useful features, including data backup. The program works with a large number of types of storage devices and has a decent list of features, namely:
Backup and restore system, hard drive, partitions, files, and folders.
Support for various types of backups, including full, partial, differential and automatic.
Cloning disks/partitions to update the HDD or transfer files and data.
Copying using command line scripts.
Merge the backup and the associated additional copies into one.
Creating a bootable environment for WinPE or Linux in the event of a system crash.
Compress, split, encrypt and verify image backups.
Support for dynamic disks, MBR, GPT disks, as well as working with EFI / UEFI boot mode.
The program has a nice and intuitive interface, under which many features are hidden:
Cloning system. Migration of the operating system from HDD to SSD, from SSD to SSD, from HDD to HDD or from SSD to HDD without the need to reinstall Windows and applications, with a guarantee of system boot after migration. Support for MBR / GPT partitions, UEFI boot mode, SSDs with mSATA / M.2 / PCI-E interfaces.
Universal Restore. Restoring a backup image to another computer with different hardware components, or transfer the OS from a physical disk to a virtual machine (P2V) through the creation of a backup and restore it.
Combining backup images. Create a single backup by connecting incremental backups into a single image for easy management.
Editing partitions on a disk. Manually adjust the size of the partition on the target disk when cloning a disk or restoring a disk copy image.
Real-time synchronization of folders and files with a network location.
Backup and restore dynamic volumes.
AOMEI Backupper Pro has a well-deserved price of $49.95, and after some time will become indispensable in your work.