When Data Recovery Software it is needed to recover files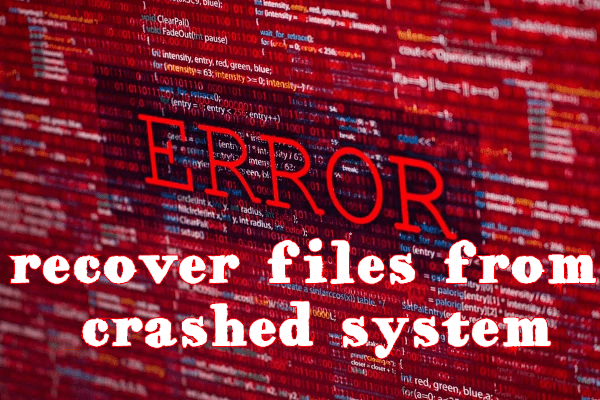 In the modern world, the most important thing is information. Moreover, this word can mean photos, videos, text documents, tables, databases, and much, much more. But, also, a rather painful threat arose – the opportunity to LOSE this data. Moreover, for many, for many, data loss is worse than losing money, because money can be earned again, and a photo from a vacation in Paris is not always possible.
For these purposes, developers offer tons of useful and not so software that will help the user. The types of programs are divided according to the type of data loss because this can occur as a result when OS is crashed, a computer failure, in particular, if the hard disk is crashed, data deletion due to my own negligence, including cases of "I don't know how the file disappeared".
How to recover files from crashed system? We have prepared the following recommendations for this.
If you are a Mac user, then you can check out our other article Top 3 Data Recovery Software for Mac.
How to recover the data?
General recommendations
Before you start the file recovery procedure, you need to understand that the earlier you start recovering files, the more chances there are for this, accordingly, the more time has passed, the more difficult it is to do it.
Also, before starting recovery, you need to complete unnecessary processes and stop using a computer, since during operation the system can overwrite the sectors of the hard disk in which the data you need is located. This is especially true when the files you want to recover are located on the system partition. Then we advise you to disconnect the hard drive and connect to another computer or use it as an external drive.
Ideally, if you know a place where this data can be located, in this case, you can use the program or utility you are interested in. If not, then you have to use special programs that have the functions of "Deep Scan".
In any case, we strongly recommend that you use specialized software that will help you recover your files from a crashed system.
Recommended Programs to recover files from crashed system
Stellar Data Recovery
Stellar Data Recovery – One of the best programs in its segment, which has a lot of useful fittings, a simple interface, and high performance and speed. This product line is compatible with all macOS versions.
Stellar Data Recovery effectively recovers lost files, recognizing more than 190 different file formats. It has the ability to recover from:
Hard drives,
CDs,
portable USB drives and others.
The interface is as simple as possible and does not require special knowledge from users. Stellar Data Recovery includes powerful and functional tools for finding deleted data to recover it.
The program has a number of powerful tools, namely:
recovery of logical volumes in file systems HFS, HFS+, HFSX, HFS Wrapper, FAT, USB Flash Drives, memory cards, iPod.
Drive Status – a mode that allows you to scan the hard drive and retrieve detailed information about the status of the partition separately. The program has Quick and Deep scans and also has support S.M.A.R.T (Self Monitoring Analyzing and Reporting Technology).
We strongly recommend that you use Stellar Data Recovery software to recover deleted files.
---
EaseUS Data Recovery
EaseUS Data Recovery It is a similar program with some distinguishing features, for example, the ability to save the scan result, ease of use, compatibility with all versions of Windows and macOS, and the ability to restore files according to their location on the hard drive.
It can recover data from
Mac laptops
hard drives
USB drives, SD cards
memory cards
digital cameras, etc.
It works on internal drives supported by HFS, as well as on FAT / FAT32 file systems used in USB flash drives and external hard drives that can be connected to an Apple computer. The program is able to recover various types of files, including images, videos, music, as well as document files.
The program is really good and has a good interface, but using the free version of the program you will not achieve practically anything since it is very limited.
---
Disk Drill
Buy Disk Drill Pro
Disk Drill is developed by СleverАiles.
Disk Drill is a powerful data recovery tool. The program supports various versions of the masOS. The program restores data to:
hard drives
flash cards
SSD drives.
Disk Drill allows you to recover information from disks of various file systems (HFS/HFS+, FAT16/FAT32, NTFS, EXT3, EXT4, etc.).
In addition to the main function of information recovery, Disk Drill offers protection technology – Recovery Vault. After activating this function, Disk Drill begins to monitor deleted files, placing service records in the program storage, with the help of which subsequent data recovery becomes a matter of several minutes.
The main disadvantage of the program is that a full range of functions can be obtained only by purchasing the full version of the program.
---
How to prevent the loss or deletion of data?
The foremost method to always have the important files and not suffer that you lose them is to make copies of them. You can use standard OS tools or third-party utilities, create clones of hard drives, or use cloud storage and place important files there. You can familiarize yourself with such information in more detail in our article Top 3 Backup Software .
In the case of a virus attack, the main and most effective way to minimize the likelihood of data loss is to use proven anti-virus software that will prevent irreversible consequences and, as a result, preserve the integrity of your files. Our team has tested many antiviruses and we recommend that you install Malwarebytes for Mac on your macOS. This software will easily keep your system safe.